United Kingdom: UKCA marking after Brexit
The CE marking and related RED requirements will be fully accepted until 31st December 2021, as long as the valid CE standards are not modified and remain valid up to this date.
From 1st JAN 2022, national obligatory UKCA assessment process is planned to be established. For this, a national UK conformity assessment body has to be involved for getting confirmation of UK conformity.
This process can be done voluntarily in advance from JAN 2021. For this, please get in contact with us for getting a quotation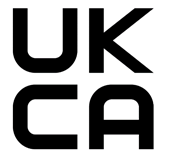 The UKCA marking is already created as shown in following graph. But it mustn't be mix up with "UK Cheerleading Association", which is also abbreviated with UKCA.