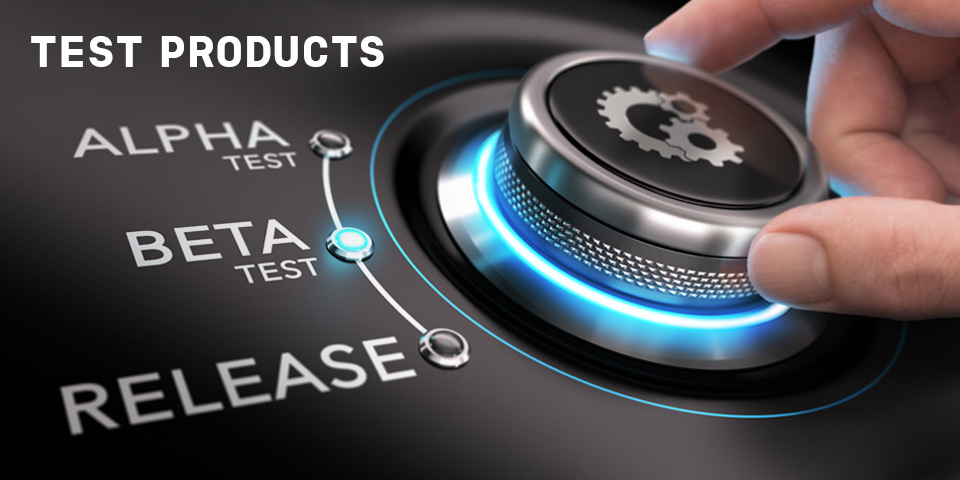 INTERLAB EVO-TEST MANAGEMENT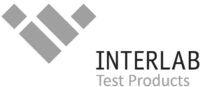 Interlab EVO – next evolution of test management
Interlab EVO is an excellent Test Management System, which is used in the wireless industry by manufacturers, network operators, test houses and certification bodies since many years.  Interlab EVO includes a professional laboratory management system, in line with ISO 17025 requirements and is offering flexible hosting scenarios.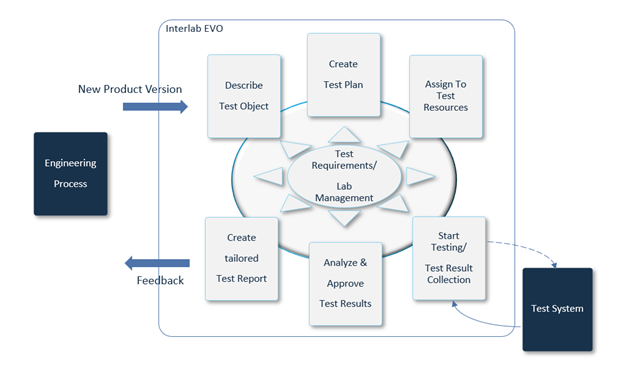 Test Project Collaboration System
Interlab EVO is a seamless, web-based and secure test management collaboration system.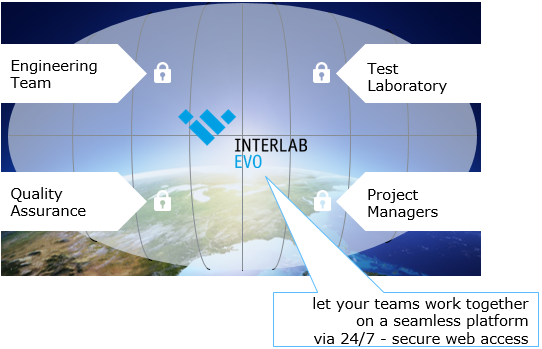 It supports your teams working together and encompasses nearly all steps required during a verification process.

Interlab EVO bridges the gap between all those teams  that are involved in a development and test project and enables a systematic verification of your implementations.
For systematic verification of:
connected devices and Smart Services
mobile or wireless products
IoT applications
You can choose
from above Interlab EVO components
number of users and locations
content packages – to cover different technologies
Describe the Test Object
Guided by a Questionnaire wizard step-by-step
Choose requirements from a pre-defined list
Describe your requirements manually
Upload requirements from other sources (e.g. spreadsheets)
Choose quality policy
Depending on the desired market and certification requirements you can select from a list of provided "Quality Policies"
Bureau Veritas ready-to-use and installed content packages
Content created and uploaded by your organization
Content created by other 3rd parties
Create test plan
Use Interlab EVO test plan generator for automated generation of test plans
Add Tests to a test plan manually
Assign to Test Resources
Check your Test Capabilities  (local/global)
Priorities your Test Resources
See Test Durations
Assign dedicated Tests to your capable Test Resources
Perform testing
Handle multiple versions of test samples
Initiate tests
Import test results into the system, either
◦ fully automatically or
◦ manually, depending on your choice of Interlab EVO Result Import components
Analyse issues
Based on the outcome of your testing, you will receive concise overviews which help to analyse any issues. Depending on your analysis it may be necessary to consider changes, which can be reflected in Interlab EVO based on
Product or service requirements updates
Quality policy updates
Specifications updates
Dashboard
The Interlab EVO dashboard provides online approved status information in charts and detailed table views. LOG files and detailed results can be downloaded and the integrated issue/ ticket system enables the communication between the project involved users. The dashboard can be made available with dedicated secure access for your customers.

Generate test reports
Test reports can be created fully automatically by connecting Microsoft Office templates to the Interlab EVO data base.
In addition to some directly available test report templates, you can easily modify and upload your own templates to the Interlab EVO system for future use.
Bureau Veritas offers professional services to create your own specific report templates
Web API
Interlab EVO provides a Web API to provide essential project data to your application via a secure web interface. Projects, OUTs and Samples can be created remotely and test results incl. test reports can be pulled back into your system.
Version Control
Due to a strict version control of requirements and product or service implementations, you are provided with a consistent overview of the different product versions. This ensures their traceability over the complete verification lifecycle and complies with ISO17025 requirements.
******************************************************************************************************************************************************
Benefits of Interlab EVO
Interlab EVO streamlines complex test management processes. It brings an end to the feared loss of test project data, inefficient use of test resources, wrongly generated test plans etc. As a scalable solution, that covers the growing requirements of a Smarter World and the IoT, it is the ideal test management solutions for a variety of user groups.
******************************************************************************************************************************************************
The Interlab EVO Components
Test Management
Test Plan Generator
Test Requirements Management
Laboratory Management
Result Import
Reporting
Test Capability Management
Content Management
Interlab EVO – Test Management
The test management component of Interlab EVO connects many teams, tasks and projects.

With the Test Management Component, the users …
set-up projects
manage access rights
manage objects-under-test
manage your different versions of tested samples
create and update test plans
assign test plans to test resources
enter or import test results
analyse and approve test results
create test reports
get fast status overview on projects, objects-under-test and test plans via graphical charts and reports
create and track Issues within your projects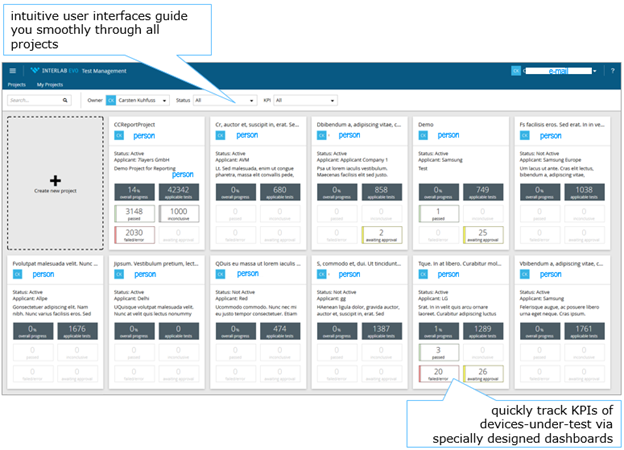 Interlab EVO – Test Laboratory Management
Interlab EVO supports the efficient management of test laboratories.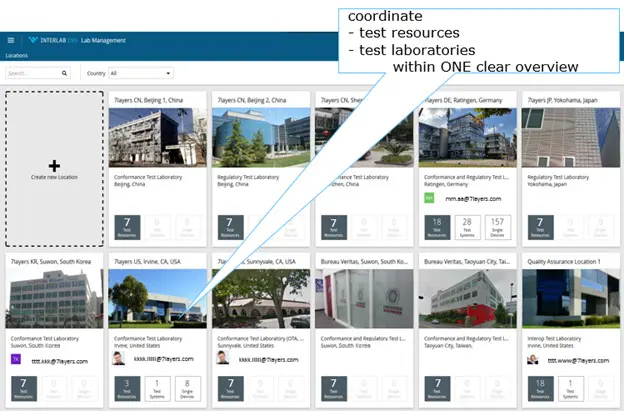 All teams have a structured overview of the available test resources, such as test systems and/or single test equipment as well as their capabilities and calibration status.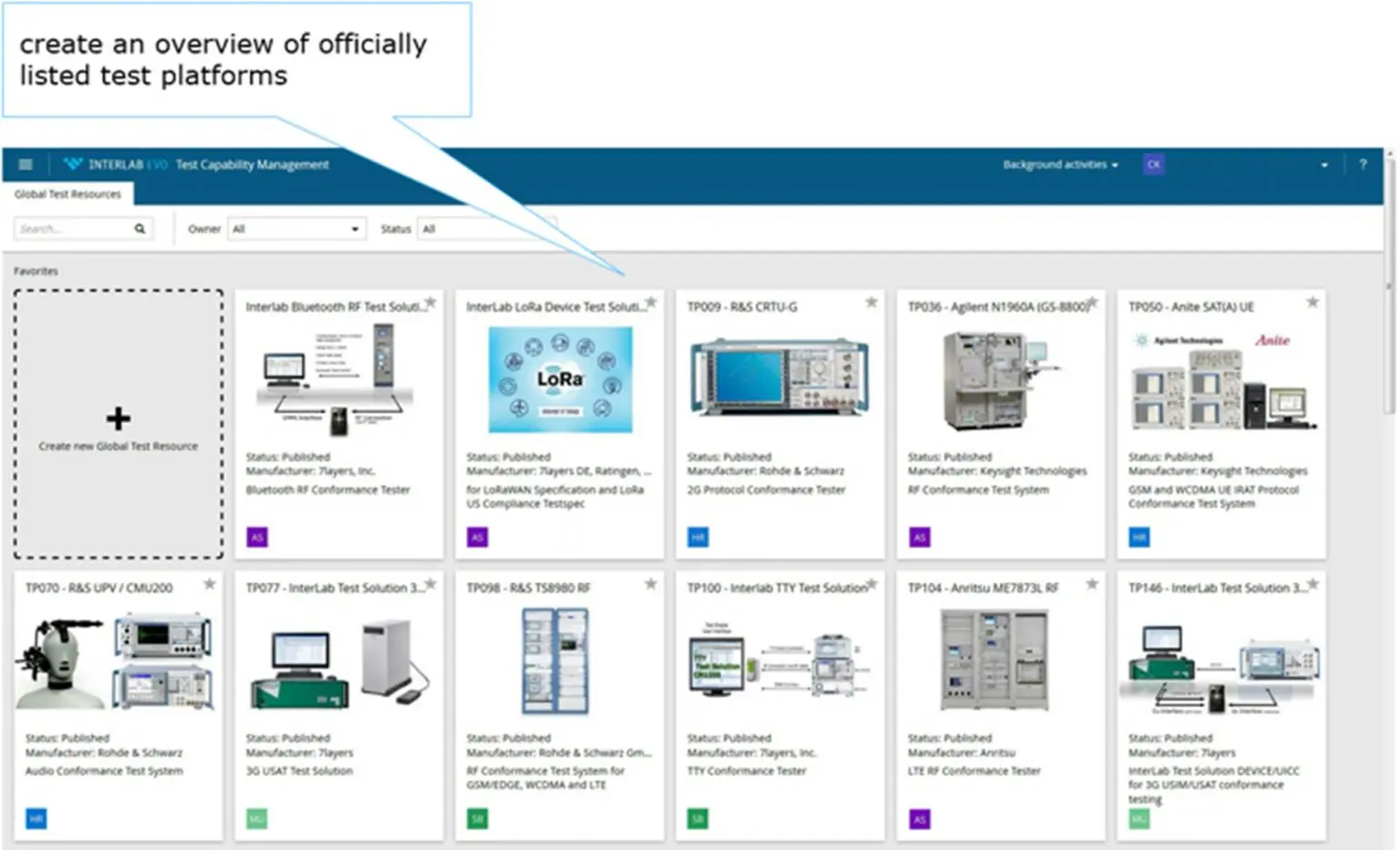 Within Interlab EVO you can create an overview of officially listed test platforms, including the name of the manufacturer, the name of the test resource and its technical coverage, with which you can equip your laboratory.
For a complete list of applicable test systems used for example for GCF and PTCRB certification processes, it is possible to simply link the committee information to Interlab EVO.
Here you can
define globally available test resources, important for your business environment
describe test system configurations
test parameters
test capabilities
Interlab EVO – Test Result Import
The more test results you create, the more important it becomes to import them automatically into a test management system, if you want to ensure a fast and error-free process.
Thanks to the "Result Import" component of Interlab EVO, test results can be uploaded into the system automatically and linked to the respective test plan. Supported file formats can be spreadsheets, XML or RTF files. With the help of different parsers used in combination with configuration and mapping rules, you can configure externally provided files so that they match the Interlab EVO data structure.
A further extension are the Interlab Test Engines, which connect Interlab EVO to the test systems in use. Interlab test engines support the configuration of test systems, initiate test sessions and automatically upload test results into the test management system. Contact sales@interlab.com for further details on the adopted test platforms.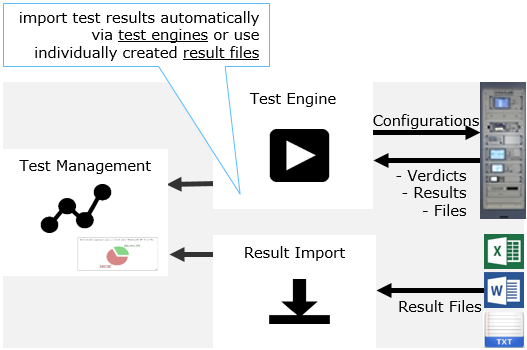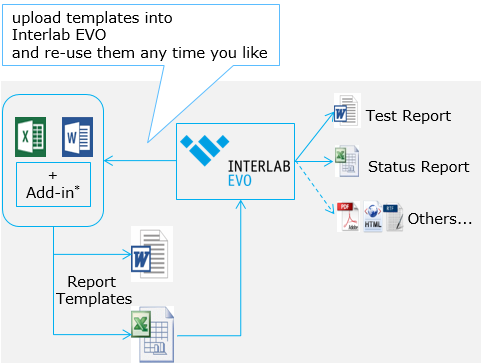 Specific report templates can be uploaded and used within Interlab EVO.
Depending on your use case, you can also choose reporting templates provided by Bureau Veritas or other sources. You can design and format the report via standard MSOffice features. Report templates which have been created in this fashion, can be uploaded to the Interlab EVO system and re-used, for the fast creation of identically looking reports in future. You can choose between output formats such as *.docx, *.pdf, *.xlsx, *.html.

Interlab EVO also provides a well defined interface with which you can extract the data, required for a report.
Interlab EVO – Content Management
Interlab EVO – supports open content management:
Content such as
product or service requirements
test specifications
quality policies of certification or regulatory regimes
report templates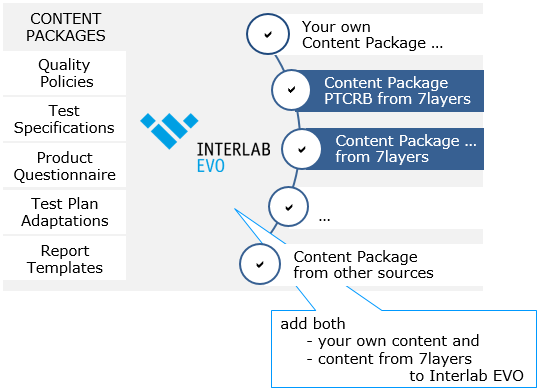 can easily be imported to and managed within the system.

For the most efficient and economical way to cover your organizations needs you can choose and mix
your own content
ready-to-use content packages from Bureau Veritas
To ease the content import, the data exchange is based on generic web interfaces between Interlab EVO and other IT systems (e.g. HP ALM, MS Excel, MS Word).

Ready-to-use content packages for Interlab EVO
For ease of use you can extend the Interlab EVO system with ready-to-use content packages describing specifications and/or quality policies.

Based on the Bureau Veritas expertise in wireless testing and certification, we have prepared ready-to-use content packages. These are ideally suited to work in combination with Interlab EVO.  As an active member of all relevant standardization and committee groups within the wireless world, Bureau Veritas collects, analyses and compiles all relevant information to create the "ready-to-use" content packages for Interlab EVO and offers continuous updates.

Ready-to-use content packages from Bureau Veritas contain:
Specifications
Quality Policies
Test specifications, test case descriptions, test platform versions
Technical certification rules
Regulatory requirements
Questionnaires for test plan generation
Plug-ins for test plan optimization
Report templates
Content packages from Bureau Veritas cover:
GCF/PTCRB
Verizon Wireless
Bluetooth®
FCC
RED (R&TTE)
ISED / IC Canada
Ecall
Cybersecurity
Bureau Veritas maintenance services for Interlab EVO content packages
Content packages are subject to continuous upgrades and changes. Based on the Bureau Veritas expert know-how and our participation in leading standardization groups, we monitor the ongoing developments regarding specifications and quality policies and update the content packages accordingly.

Bureau Veritas ready-to-use content packages – a reliable and efficient way for up-to-date and correct test and certification processes.

Support & Maintenance Services for Interlab EVO
User support is provided by the experienced Interlab support teams from Bureau Veritas.
You can reach us in all major time zones in
Bureau Veritas offers
online ticket system
committed response times
continuous software maintenance
regular content updates