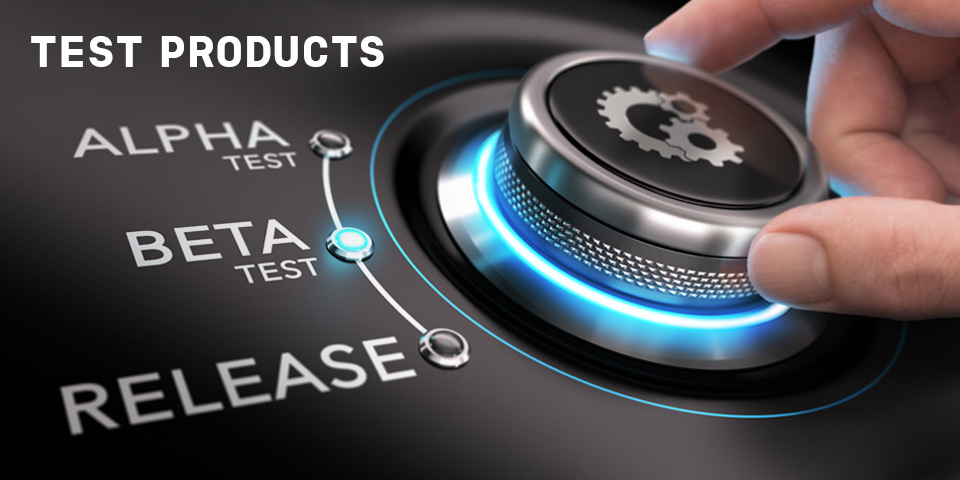 Interlab Test Solution Bluetooth® RF


Ease Bluetooth® RF test processes with a variety of Bluetooth® test solution setup options
The Interlab Test Solution Bluetooth RF is currently world's most successful Bluetooth RF Test System. It is used in the majority of Bluetooth Qualification Test Facilities (BQTFs) both in 3rd party and in-house laboratories world-wide.
The requirements regarding Bluetooth Qualification testing are changing continuously, and the variety of products with implemented Bluetooth technology is enormous. This makes it difficult for manufacturers and BQTFs to prepare devices for smoothly running test processes. 7layers is active member of the Bluetooth SIG over many years has used its experiences as a leading BQTF and developed several setup options for its Interlab Test Solution Bluetooth RF. Depending on your requirements you can choose the combination that best suits your needs.
Choose between different setup options for the Interlab Test Solution Bluetooth® RF
Our various setup options help prepare Bluetooth devices for testing and ensure streamlined pre-conformance and conformance test processes.
Trust 7layers Bluetooth® expertise when choosing your next Bluetooth® RF test solution setup
7layers has been offering Bluetooth qualification testing right from the beginning of the Bluetooth technology in the year of 1999. Once we started developing our Interlab Test Products, it was therefore a logical step to develop a test solution for the Bluetooth wireless technology. To start with, this was merely a conformance tester, which was updated regularly with new test case packages in order to keep inline with the development of the latest Bluetooth versions. However, the growing complexity of Bluetooth devices and qualification requirements let market needs developed further. Today the Bluetooth test solution comes with a choice of test case packages and setups.
Complete Bluetooth® RF conformance test coverage for all Bluetooth® standard versions
The Interlab Test Solution Bluetooth RF – Conformance Tester provides the complete Bluetooth SIG validated RF test coverage for Bluetooth specifications versions 2.0 + EDR, 2.1 + EDR, 3.0 + HS, 4.x, 5.0 and Bluetooth 5.1, with which the range, speed and broadcast messaging capacity of Bluetooth applications has been increased considerably. The Conformance Tester is validated in accordance with Bluetooth SIG requirements, thus meeting Bluetooth Qualification requirements. The test solution is ideally suited for qualification test processes and can be combined with the
Advantages of the Interlab Test Solution Bluetooth® RF – Conformance Tester
provides highest level of automation to speed up repetitive, time-consuming procedures
uses advanced object-under-test automation techniques, adaptive signaling methods, configurable repeat scenarios
comes with an electronic man-machine interface and an optionally climatic chamber control for extreme condition testing. Meanwhile extreme condition testing is not anymore in the scope of Bluetooth SIG qualificaiotn testing but might be relevant for R&D purposes.
helps decrease test duration and minimizes potential testing errors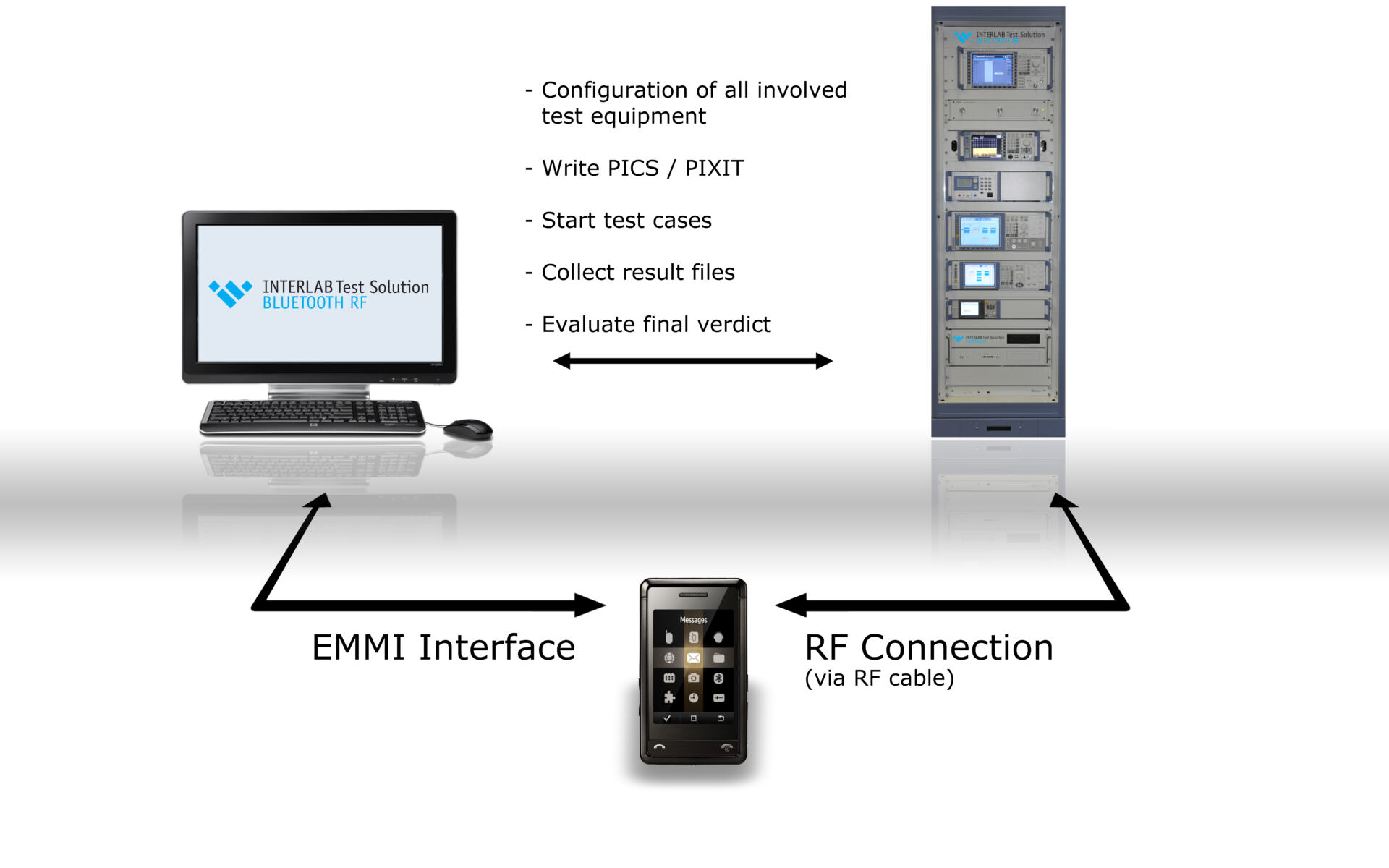 The Interlab Test Solution Bluetooth RF – Conformance Tester can be delivered with all required hardware built into a rack, or integrating existing Test Equipment, with multiple variants available.
Benefit from automated, reproducible testing and reliable results
One intuitive, graphical user interface for selection of test sequences, test groups and repeat scenarios
Sophisticated test sequence compilation based on test parameters and test conditions
Configurable repeat scenarios
Automatic control and operation of all involved test equipment
Object-under-test automation includes initial configuration, test remote control, power cycling
Automated execution and termination of external programs e.g. batch jobs, trace tools, triggered by start and end of tests
Full automation of test sequences uses the remote control (Host Controller Interface) of the object-under-test
Test sequences can be performed without user interaction
Control of auxiliary equipment e.g. power supplies or climatic chambers
Intelligent link re-establishment in case of link loss during lengthy test cases to safeguard already performed measurements
Speed up test projects on Interlab Test Solution Bluetooth® RF with the Testability Check Setup Option
7layers has created a special Setup Option to speed up test projects considerably.
The Interlab Test Solution Bluetooth® RF – Testability Check
verifies the automation interfaces of a Bluetooth enabled device and the signaling of the device
has the same software framework as the Interlab Test Solution Bluetooth RF – Conformance Tester, utilizing the same automation, framework and signaling
exports the configurations and ensures the device is ready to perform testing
identifies issues with automation, signaling and continuous operations
is a great add on for owners of a R&S® CMW
Testability-Check Use Cases – Bluetooth® device manufacturers
Bluetooth device manufacturer who have the need to better prepare their test project for a BQTF will benefit greatly from the new "Testability Check" setup option, especially if they can combine it with their own R&S®CMW.
The Testability Check allows the user to verify the behavior of a Bluetooth device in terms of test automation, signaling, timing and continuous operation in the same software environment used by a BQTF, but in the comfort of their own office or lab. This helps to identify and resolve common issues ahead of time which often cause significant delays and costs in Bluetooth RF Qualification testing.
Verify your Bluetooth® device automation-interface and speed up BQTF testing
The Bluetooth Automation Explorer is a free setup option of the Interlab Test Solution Bluetooth RF. Simply log in with username/password "guest" to download the Automation Manager for free from the 7layers support page. With our Automation Explorer you can verify your Bluetooth RF device automation-interfaces before sending your Bluetooth device to the 7layers BQTF for testing. Of course, it is also possible to export the verified configurations to your own or any other Interlab Test Solution Bluetooth RF- Conformance Tester or Interlab Test Solution Bluetooth RF – Pre-Conformance.
The Automation Explorer can help speed up Bluetooth Device Under Test (DUT) test processes in your own lab or any BQTF considerably.
Free Automation Explorer Download and Documentation
The Bluetooth Automation Explorer allows manufacturers to set up and verify the Bluetooth automation interface (USB, RS-232, Android Debug Bridge (ADB), BTCLI, etc.) of their device and its protocol in the comfort of their office, before submitting them to a 3rd party test lab. This approach significantly streamlines the project preparation process and speeds up the test project considerably.
Please contact Support@interlab.com for further information.
Choice of test solutions for wireless test laboratories