Interlab Test Solution Bluetooth® RF fully validated for AoA/AoD- Direction Finding
7layers is working on Bluetooth® RF Testing with radio communication tester from Rohde & Schwarz.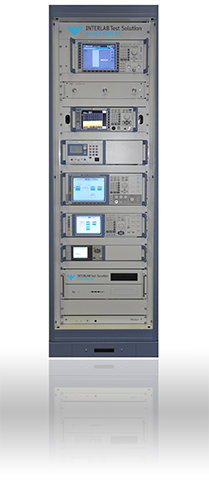 The Interlab Test Solution Bluetooth RF, a product of 7layers, is now fully validated for Direction Finding and listed in the published summer 2021 Test Case Reference List (TCRL) by the Bluetooth SIG. The Bluetooth low energy test package extension for Direction finding is in accordance to the Bluetooth Specification Part: RFPHY, version 5.3.
"By the rollout of Bluetooth low-energy devices supporting direction finding, proximity and positioning systems operating at sub-meter accuracy levels can now enable various services, such as indoor positioning, wayfinding, asset tracking, object finding, and directional discovery. This capability of high-accuracy distance measurement will become an important feature for Bluetooth enabled products", says Magdy Ahmed, Product Manager at Interlab Test Products. "To qualify the new feature, the Bluetooth SIG has introduced a bundle of requirements for qualification mandatory starting from October 2021."
The Interlab Test Solution Bluetooth RF meets all qualification requirements for Bluetooth RF and RFPHY for Classic, Low Energy (LE) as well as Direction Finding. Existing customers of the Interlab Test Solution Bluetooth RF can now upgrade their test platform to operate Direction Finding testing. There is also an option just to purchase the Direction Finding Test Case package.
The R&S® CMW 270 platform is used as signalling unit of the Interlab Test Solution Bluetooth RF and provides many features from R&D, pre-qualification and Bluetooth SIG Qualification testing. "We continue our development in creating customer values for Bluetooth testing by our active participation to the Bluetooth SIG standardization. Having a reliable, high quality and flexible test platform as well as an intensive contribution to Bluetooth SIG and deep cooperation with leading Bluetooth product providers is the key to our success for future developments", explains Carsten Kuhfuss, Product Manager at Interlab Test Products.
The R&S® CMW test platform delivers the full range of Bluetooth® RF tests, including Bluetooth® BR/EDR, Bluetooth® low energy up to Release 5.3. In addition to Direct Test Mode (DTM) and 'over-the-air' (OTA) signalling tests, it supports a wide range of audio tests on Bluetooth® basic rate/enhanced data rate (BR/EDR) links. "We support the interoperability of all Bluetooth devices worldwide. In doing so, we rely on close cooperation with Bluetooth qualification test facilities such as 7layers", says Michael Altmann, Senior Director of Product Management Mobile Radio Testers.
About 7layers
7layers is an international testing, certification and consulting service provider, specialized in wireless technologies. With its network of laboratories all over the world, 7layers supports different sectors like industry, automotive, telecommunication, health, customer products and IoT – from initial consulting and testing to world-wide certification of smart products and smart services. Complementary 7layers supports laboratories, network operators and manufacturers with its Interlab Test Products business unit to master the complex test and lifecycle management tasks that are necessary to bring reliable connected devices and IoT services to market.
Founded 1999 in Ratingen/Germany, 7layers has been a member of the Bureau Veritas Group since 2013, a global leader in the field of inspection, testing and certification with approx. 75,000 employees and an annual turnover of 4,55 Billion Euros.
www.7layers.com/en/test-products
For further information please contact: sales@interlab.com
About Rohde & Schwarz
The Rohde & Schwarz technology group is among the trailblazers when it comes to paving the way for a safer and connected world with its leading solutions in test & measurement, technology systems, and networks & cybersecurity. Founded more than 85 years ago, the group is a reliable partner for industry and government customers around the globe. On June 30, 2020, Rohde & Schwarz had around 12,300 employees worldwide. The independent group achieved a net revenue of EUR 2.58 billion in the 2019/2020 fiscal year (July to June). The company is headquartered in Munich, Germany.